2019
Reality booth at GDC 2019
2018
Social Project - educational game for young people
Reality booth at Digital Dragons 2018
We launch Weather Challenge
Reality at GDC 2018
Reality Christmas workshop
2017
Trip to Ostrava - visiting mine
Team dinner in Ostrava, Czech Republic
Digital Dragons 2017 - Małopolska Game Award
Reality Games at China Joy, Shanghai
Reality Games at GDC 2017, San Francisco
Innovation stage at SEC 2017
GDC 2017 - UK Game of the Show Award - San Francisco
Reality at Malaga Conference, presentation about Big Data
Digital Dragons 2017 - Małopolska Game Award
Reality Games at Ace Fair in Korea
DigitalDragons - Game Academy - Big data engine in games
Capital Days Conference 2017 - economic University in Cracow
Minister of education visit in the RG office
RG Team in Ostrava, Czech Republic
RG team Paintabll in Czech Republic
2016
#OMGKRK X-massive Party - Forum Przestrzenie, Cracow
Bitspiration Festival 2016 - Warsaw
Google Campus London 2016
Trip to Lviv 2016 - Team Photo
Football in new office 2016
Game Connection 2016 - People Choice Award, San Francisco
Game Connection 2016 - People Choice Award, San Francisco
Startup in Palace 2016 - Presidential export passport - Innovation award of development
KPT Award 2016
2015
We launch MVP of Landlord Real Estate Tycoon on iOS
We won Startup Weekend Krakow
2014
We start acceleration program at Oxygen Accelerator at Google Campus London
Reality Games is an up and coming gaming studio developing mobile games based on live, real world data. Our game engine takes real live data and combines it with a familiar game concept and proven game mechanics to generate highly addictive mobile games. We are not trying to compete with any of the current industry trends, we are creating a new genre of mobile entertainment with games based on real world data. Our competitive edge is what we believe to be a first mover advantage. We decided to use the experience and wisdom gained from the implementation of our first few games as learning material to build and improve our game engine. Results from our first three games are proving that we are on the right track. We validates this by achieving 10,000,000 organic players of our first game, Landlord Real Estate Tycoon. Consequently, the company aims to continue to develop and launch other games over the first three years of operations and achieve a total of 50,000,000 aggregate players in the next 18 months.  
INTENDED IMPACT
  Using real world data in mobile games provides us with a number of significant and tangible benefits. First of all, we are able to develop games rapidly because unlike a traditional game we will not need to develop huge amounts of game content. Secondly, we we can monetise larger groups of players and at a higher rate than traditional games because players can relate to the content. Thirdly, we think by using a familiar concept, our games can be easily understood by players and will have universal appeal. There is a nostalgia component for the tech savvy and relatively cash rich but time poor players in their twenties and thirties because they remember playing these games as a child. As a result, we create an additional emotional connection. Fourthly, our games are designed to fit in with modern smartphone behaviours. They are designed to be front of mind, but should not interfere with their daily activities. A majority of smartphone users will interact with their phones tens, if not hundreds, of times a day with very short session times. Because our games are data oriented, this behaviour is sufficient to maximize their enjoyment of the games.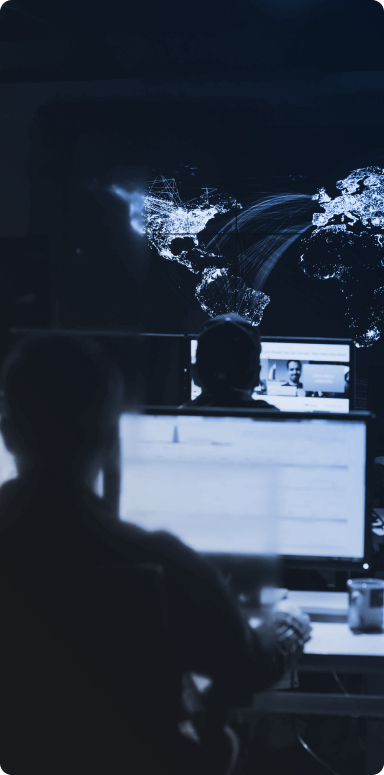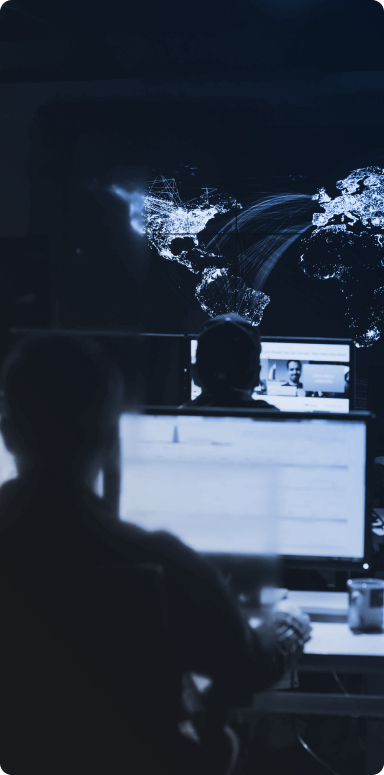 GOALS
  The primary goal of Reality Games is to add value to multiple segments of the gaming industry. For the players, we are developing engaging and entertaining games. For the developers, we are offering game engine services and we are an aggregator of APIs from different sources so they don't have to run around. For everyone else, we are sharing our vision for ads free geolocated Big Data Search Engine – bigdots.co  
MONETISATION STRATEGY
  All games utilise a free to play model. Players are not charged to download and they are given both soft and hard currency (cash and coins) in pre-determined amounts as their starter pack. If they run out of either they can buy more with real money on their app store accounts. Our monetisation model is working very well, as our current game already proved. The games are designed to be easy at the beginning and get progressively more difficult as the play continues.  Second leg are rewarded video ads. The other monetization is drawn from the use of the Game Engine. As we are an API shop for game developers, we are granting license to developers to use our API and Game Engine.   This works as a freemium model. Basic versions of the platform (where we do not incur a cost) is free for external companies. This free model allows us to gain traction in the market. Where an external company requires more complex, rich data and where we have to pay for these API's, we charge the external. The fee is determined by the call volume and by what we are currently paying to our data providers. In time, the more user data we collect and the more we enrich our own data, we become more cost competitive thereby being a 'go to' platform for all externals looking to develop games/programmes on our engine. We experience economies of scale.
We forecast that 2.3 billion gamers across the globe will spend $137.9 billion on games in 2018. This represents an increase of +13.3% from the year before, or $16.2 billion. Digital game revenues will take 91% of the global market with $125.3 billion.   Mobile gaming will continue to be the largest segment following 10 years of double-digit growth since the first iPhone was launched in 2007. In total, mobile revenues will grow +25.5% year on year to reach $70.3 billion. This means that for the first time, more than half of all game revenues will come from the mobile segment. Smartphones will account for 80% of this, or $56.4 billion, with the remaining 20% coming from tablets. Console gaming is the second-largest segment generating $34.6 billion in 2018, while PC games will bring in $32.9 billion.   Mobile Gaming to Be a 100-Billion-Dollar Market by 2021. In the span of a decade, mobile gaming will have grown from the smallest segment in 2012 to a 100-billion-dollar industry in 2021. Remarkably, the rise of mobile gaming has not significantly cannibalized revenues from PC or console gaming markets. In the coming years, mobile game revenue growth will continue to outpace the overall games market, growing to $106.4 billion in 2021. By then, smartphone and tablet games combined will generate 59% of revenues in the entire market.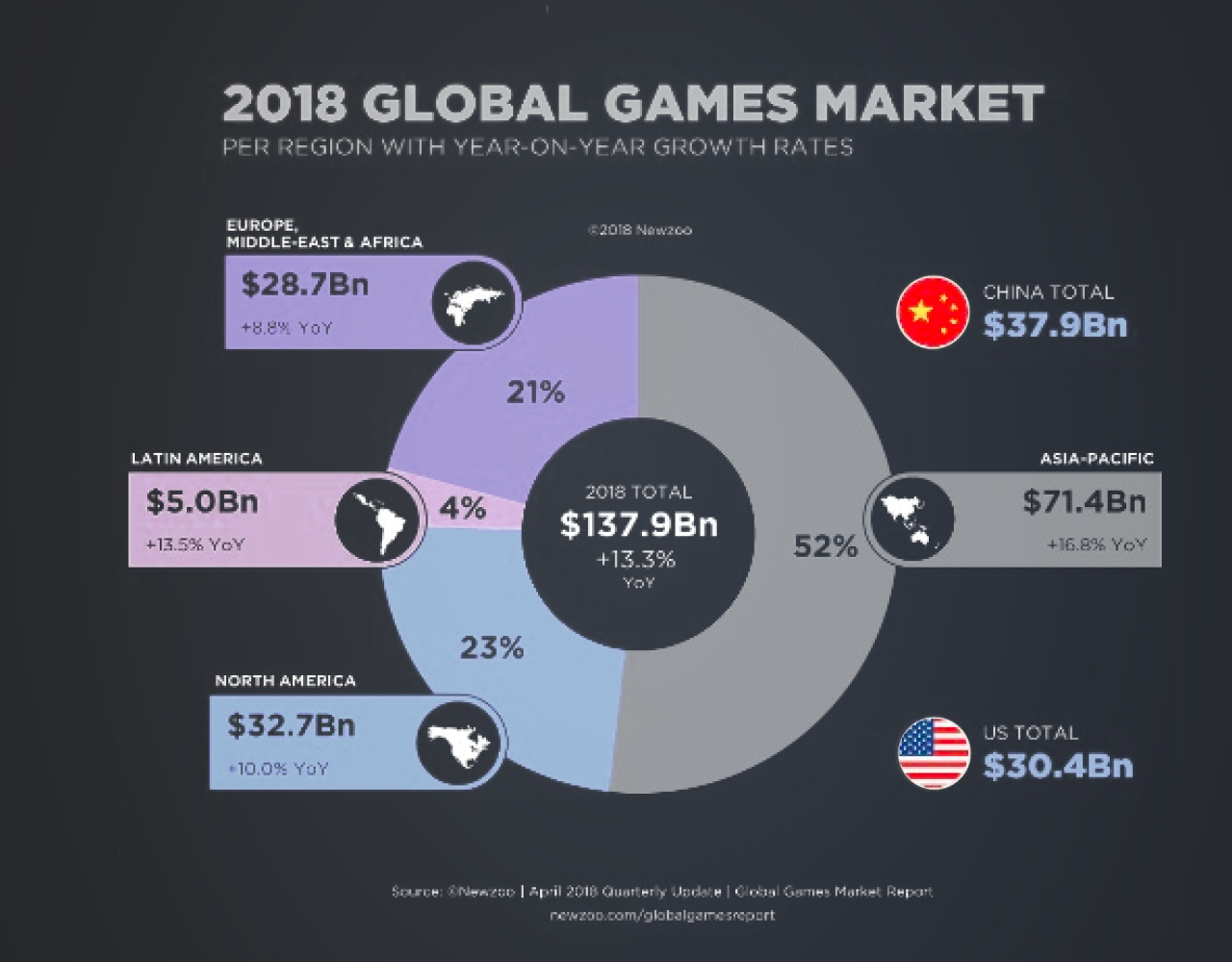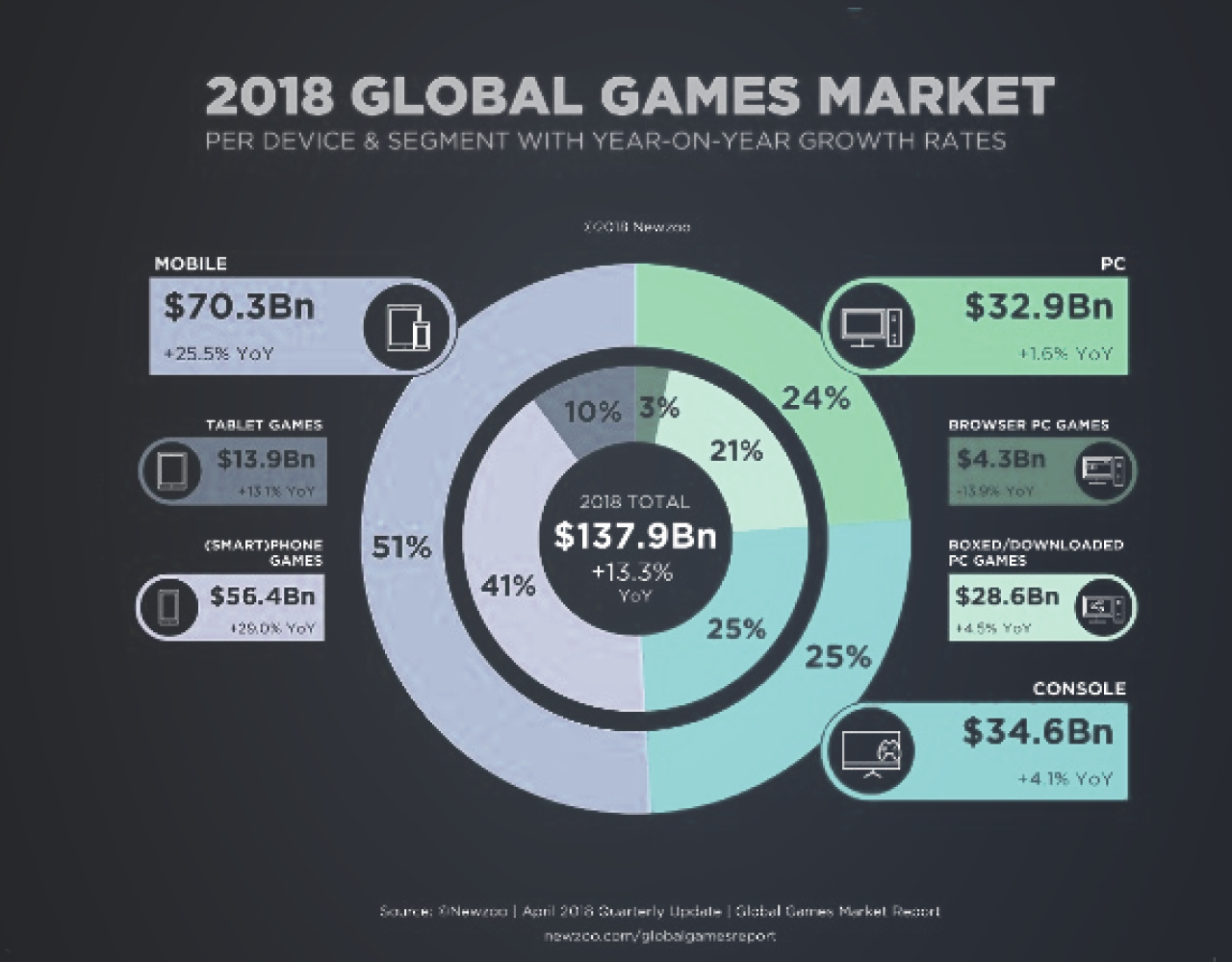 Japanese gaming market will still be the third-largest in the world in 2018 (behind the United States and China), growing +15.1% year on year to $19.2 billion. Due to the continued success of mobile gaming companies in Japan, we increased our estimate for Japan's mobile games market for the second time in a year. This means its mobile games market is now nearly the same size as North America's with roughly one-third of the number of gamers. In fact, Japanese gamers spend most of any country, particularly for mobile games. The average spend per payer in Japan is 1.5 times higher than in North America, and more than 2.5 times higher than in Western Europe.   China alone will account for more than one-quarter of all global game revenues, reaching $37.9 billion this year. It will remain the number one gaming market by revenues and by number of players. Mobile is the dominant force and will generate 61% of revenues in 2018, growing to 70% of the market by 2021. Z. John Woznowski
CEO
Co-founder of the Reality Games. Zbigniew studied law, government administration, and management at Jagiellonian University in Krakow, Poland. He was a founder and CEO of a marketing syndicate Supremum 360 (made up of 3 companies and employing 60 people), which he bootstrapped and ran for 12 years, and successfully sold. He was the director of the Polish Promotion Programme 2020, which was developed at the Kosciuszko Institute in Krakow. One of the main objectives of the Institute was the promotion of Poland by creating new, comprehensive, and long-lasting policies. He focused on creating a comprehensive and universal strategy, common for different institutions and organisations, which will connect business with tourism and culture. Additionally, he worked on analysing Poland's image, trying to build a distinct brand for the country. Currently Zbigniew is the CEO and a co-founder of Reality Games, a mobile gaming studio that creates games based on Big Data. Their flagship game, Landlord Real Estate Tycoon, has over 10 mln of players worldwide, and in last 20 months company has organic growth by 10% / week in sales. He is a creator and majority shareholder of Big Dots – crowdsourcing open data and geolocation project based on blockchain.
Michael Lagodzic
COO
Michael is an entrepreneur with 12 years of management experience and as an entrepreneur. He was a co-founder of Armadeo.pl, a leading web portal that provides bathroom fixtures on the Polish market. He is a board member of Stowarzyszenie Manko – a NGO for the propagation of big ideas, personal development, and democracy. Graduate of University of Economics of Krakow.
Michał Płachta
Head of Backend
Michał has been developing software products for almost 20 years. Over the last decade, he's been leading several software development teams in different industries: gaming, telecommunications & grocery automation. He's avid fan of functional programing and active member of developer communities—he speaks at conferences, runs workshops & organises meetups to help developers & teams make better products.
Greg Flor
Head of Studio
Greg is responsible for game balance, monetization and real data usage in Landlord, Donut Trumpet and two latest projects. He worked before as a Design Manager and Tech Writing Lead at Huuuge – Social Casino. Moreover, he has an unique experience from previous positions in Toyota and Phillips where, for over 10 years, he was a manager in Human Resource and Employee Relation Department. He graduated in Applied Psychology at the Jagiellonian University. He does not know the concept of "free time" and as soon as he begins to get bored, he designs more F2P games. You must know that he is one of the MS Excel masters too.
Kamil Sałaciński
Head of Gaming
Kamil has been moderating gaming communities since 2008. Provided public relations for the CRPG game project Scamper. Was a Game Master at Nexon Europe with management of e-community, game testing and analysis. Was a website administrator of one of Poland's most popular websites about MMO games, MMOPlaya.
Greg Bas
Head of Live Ops
Greg is a network engineer with over 16 years of experience. He has worked various settings. For five years, he worked at a major Polish web portal, where he did major configuration of operating systems, administrating databases, and performing troubleshooting. He is also performing functional tests and doing optimization services for a major mobile service provider.
Sebastian Lagemann
Advisor
Software developer and serial entrepreneur with over 12 years of experience. Was a key builder of the MMO X-Wars. Built the international payment solution for Gameforge and managed over 400 servers. Founded Honeytracks, an in-depth analytics solution dedicated to games, and built the whole scalable technical infrastructure from scratch. Became CTO of IQU when they merged with Honeytracks.
Vincent Vergonjeanne
Advisor
Former CEO & Co-Founder of Kobojo, a European leader in the social gaming industry, Vincent lives now in Krakow, Poland, where he has founded EVERYDAYiPLAY, a new game studio specialized in free-to-play games for a mid-core audience. He is also a Business Angel, Free-To-Play consultant and a Lean Startup enthusiast.
Nav Sunner
Advisor
Nav's been involved with the video games industry since the late 90's. He's a qualified lawyer and holds a Masters in Intellectual Property Law. He has acted as both in-house counsel and external adviser for a variety of companies in the industry including developers, publishers and service companies. Later he moved into business development/strategy roles. His last role was being part of the management team of a major publisher's games studio where he was responsible for forging and managing all key external partnerships. Ultimately, this combined experience led him to set up "Navatron" a business and legal consultancy entirely focused on the games industry.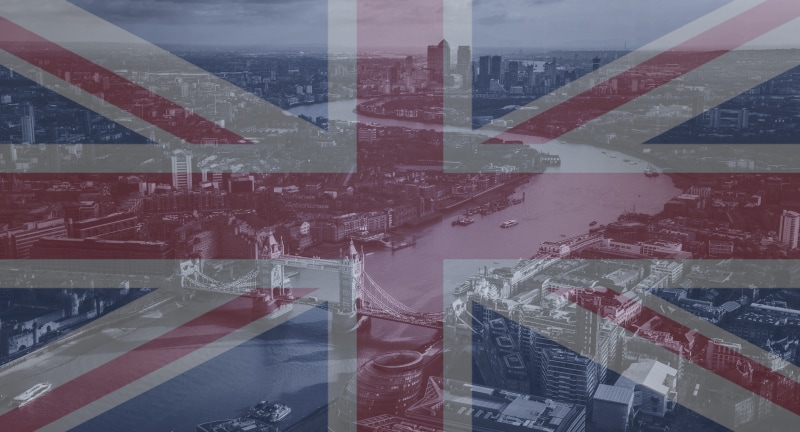 United Kingdom Company
Documents
Opened in 2014, is still our parent company with headquarters in London.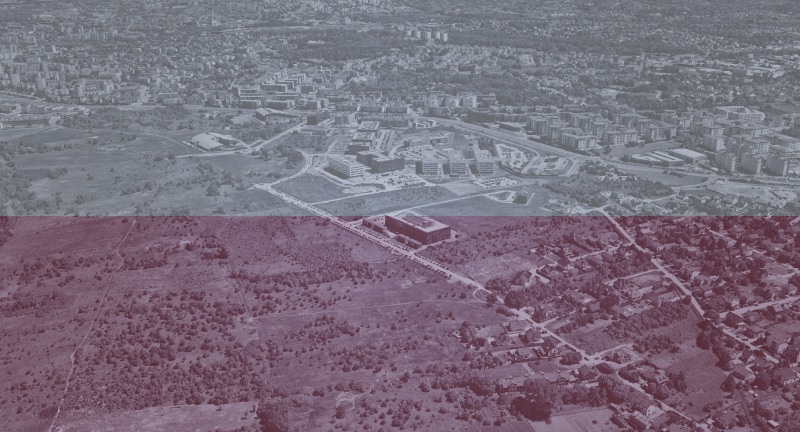 Reality Games Polska is our subsidiary company where most of R&D takes place, with HQ in Kraków.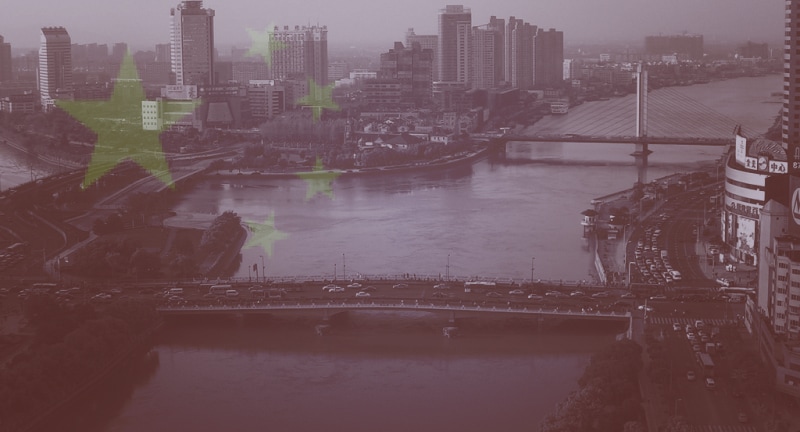 We have also opened an office in Ningbo to carry out projects on the Chinese market.
| Shareholder | Shares class S | Shares class A | Shares class B | Shares class C | Shares class D | Shares class E | | |
| --- | --- | --- | --- | --- | --- | --- | --- | --- |
| | | (key founder) | (active founders) | (passive founders) | (esop) | (advisors) | Shares total | % |
| MU Z.J.Woznowski | 500 000 | - | - | - | - | - | 500 | 0,1% |
| MU Z.J.Woznowski | - | 650 000 000 | - | - | - | - | 650 000 000 | 65,0% |
| MU Z.J.Woznowski | - | - | 150 000 000 | - | - | - | 150 000 000 | 15,0% |
| Poly Shrager | - | - | - | 19 500 000 | - | - | 19 500 000 | 2,0% |
| Michael Lagodzic | - | - | 20 000 000 | - | - | - | 20 000 000 | 2,0% |
| Allocated ESOP | - | - | - | - | 40 000 000 | - | 40 000 000 | 4,0% |
| Unallocated ESOP | - | - | - | - | 100 000 000 | - | 100 000 000 | 10,0% |
| Sebastian Lagemann (advisor) | - | - | - | - | - | 10 000 000 | 10 000 000 | 1,0% |
| Vincent Vergojeanne (advisor) | - | - | - | - | - | 10 000 000 | 10 000 000 | 1,0% |
| SUM | 500 000 | 650 000 000 | 170 000 000 | 19 500 000 | 140 000 000 | 20 000 000 | - | 100,00% |