Join the Reality Games
Team: Unleash Your
Creative Potential.
Reality Games' goal is to produce fantastic games with enthusiastic, passionate people. We are proud of our culture of creative and technical excellence, and we are constantly on the lookout for new for talented individuals to add to our work and our community.
An Inside Look at How We Work Together
At Reality Games, employee success is a priority. The leaders offer support and opportunities for growth and development. In addition, the office space is comfortable and equipped with modern technology and amenities.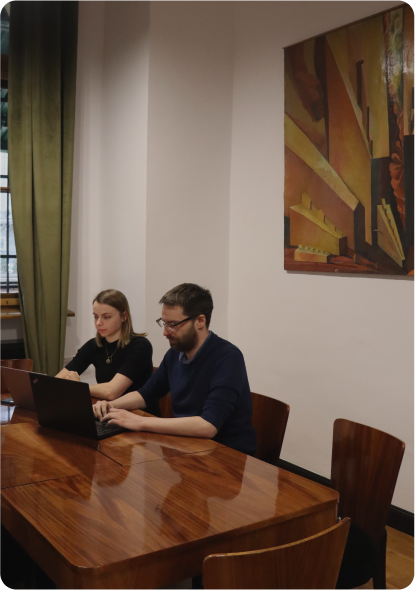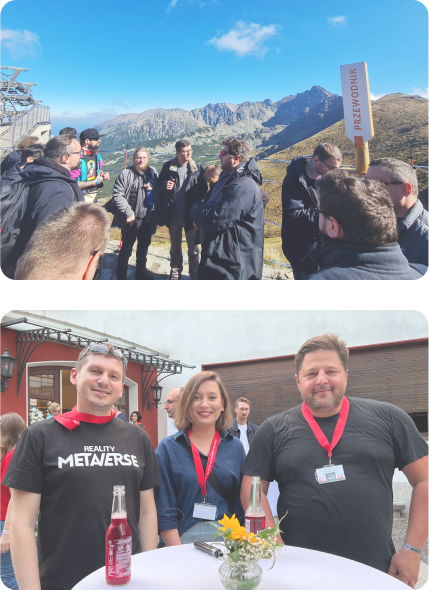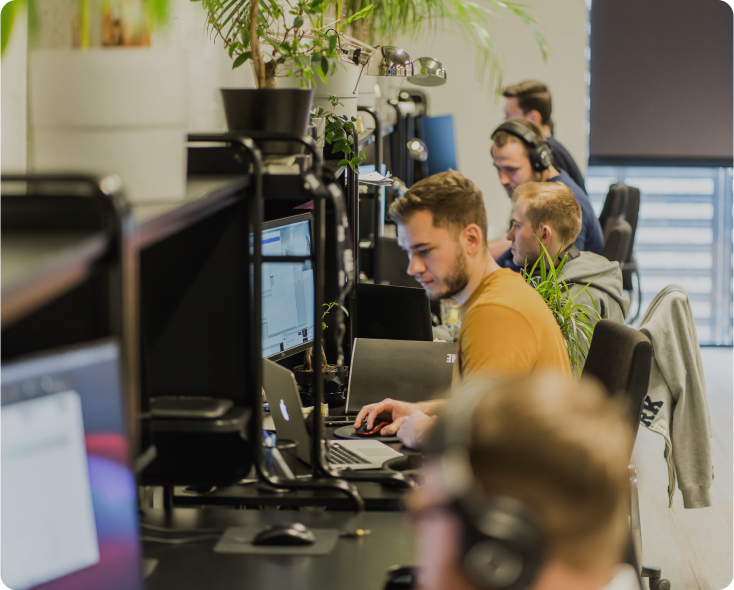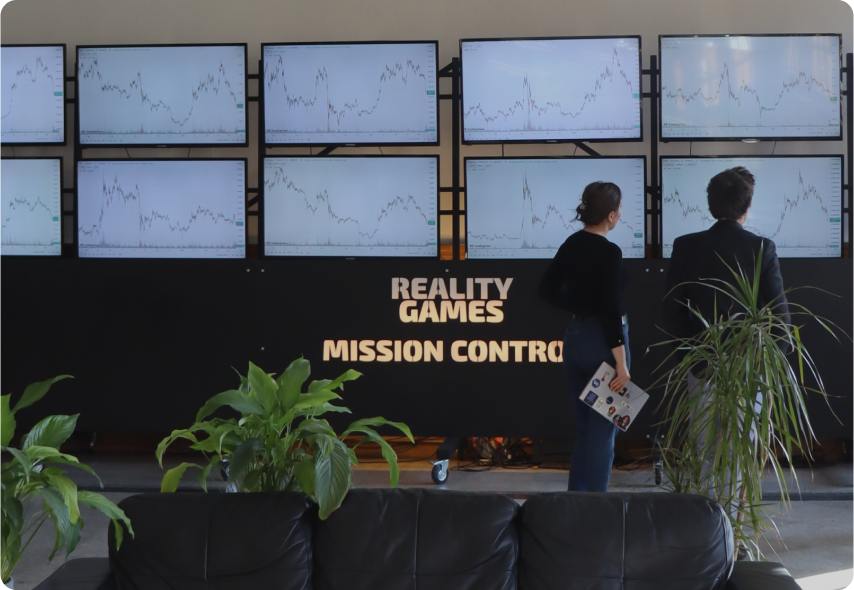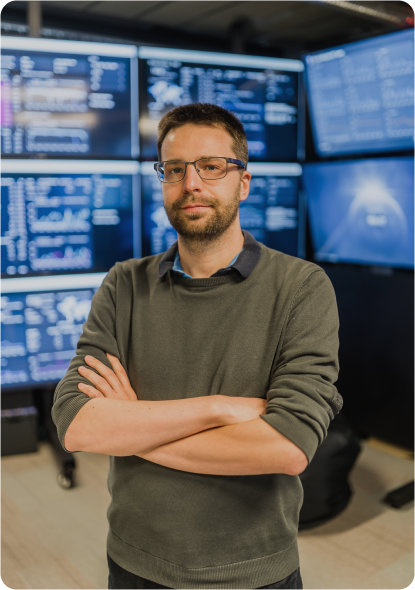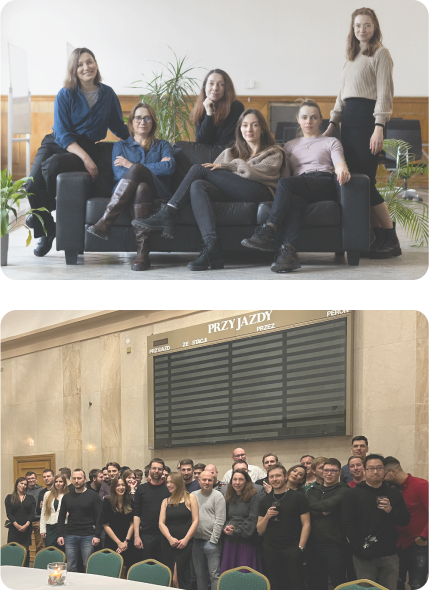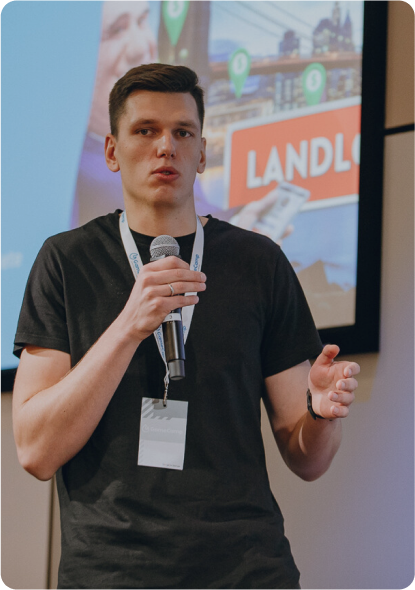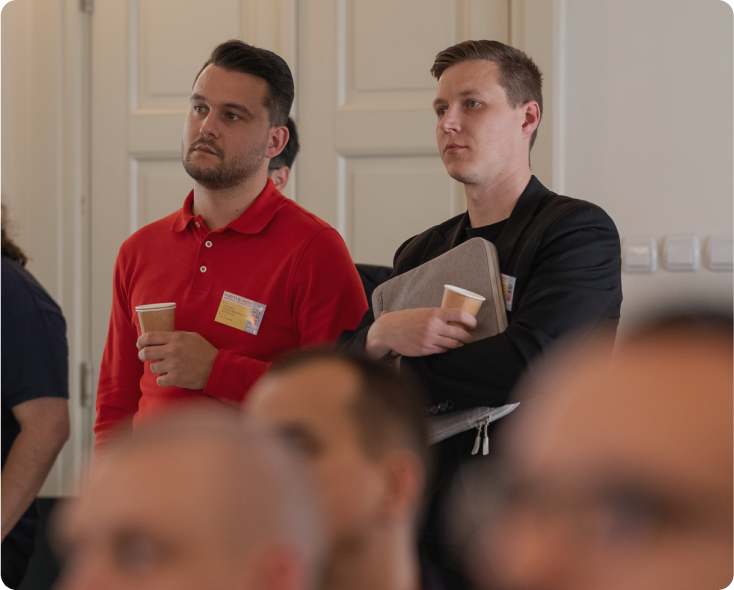 Perks of working
with Reality Games
At Reality Games, employee success is a priority. The leaders offer support and opportunities for growth and development. In addition, the office space is comfortable and equipped with modern technology and amenities. The company is dedicated to providing employees with excellent perks to help them achieve their professional goals.

Leader's support
Ask for help, give and get feedback, set up goals and develop your skills.

Knowledge sharing
Employee development is key for us!

Fast-paced career
Professional growth, supported by a performance review process

Devices
You will have the proper resources you need for your work

Beautiful office
Amazing space to work in the very center of Krakow

Flexible hours
Whether you are an early bird or late owl - we get you covered.

Growth budget
Let us know if you need any book or other materials that will help you grow

Remote work
We don't force you to work in our office - you can work from home as well.

Open kitchen
Coffee, juices, fruits, fully stocked fridge and more - come and see ;)

Sport
We regularly play together and you are invited as well!
Team gatherings
Take part in events with pizza, games, snacks with a good company. We make BBQs at lunchtime

Pet-Friendly Workplaces
Imagine how much better meetings would be if a cute pup or kitty were.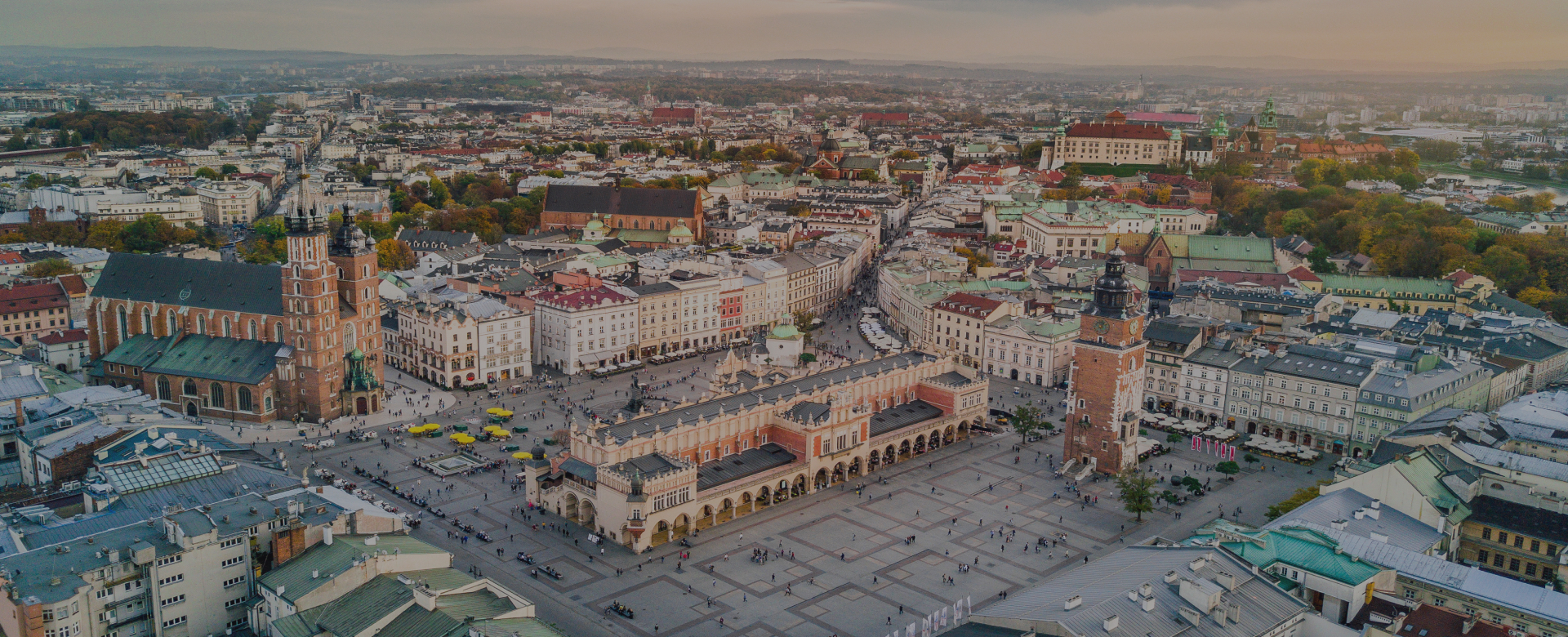 Krakow
Krakow, Poland is a great city to live and work in for a multitude of reasons. Firstly, it is a city with a rich cultural heritage and history, which can be seen in its stunning architecture, museums, and art galleries. This makes it an ideal place for those who appreciate the arts and history. Secondly, Krakow is a hub for innovation and technology, making it an excellent destination for those in the IT and tech industries.
Additionally, the cost of living is relatively low compared to other major European cities, making it an affordable option for students and young professionals. Furthermore, Krakow is a vibrant and bustling city, with a lively nightlife and many events and festivals throughout the year. Overall, if you are looking for a city that offers a perfect blend of culture, innovation, affordability, and fun, then Krakow is the place for you.
Senior Team Members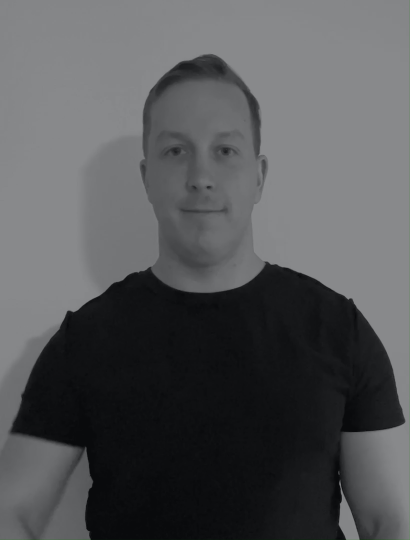 Karol Żółcik
HEAD OF PRODUCTION
Karol is a passionate gamer for over 20 years, and for the last few years has been leading development teams to build and improve games. With a background in consulting companies, he combines data & community-driven development of products to satisfy all players and improve the results of the game.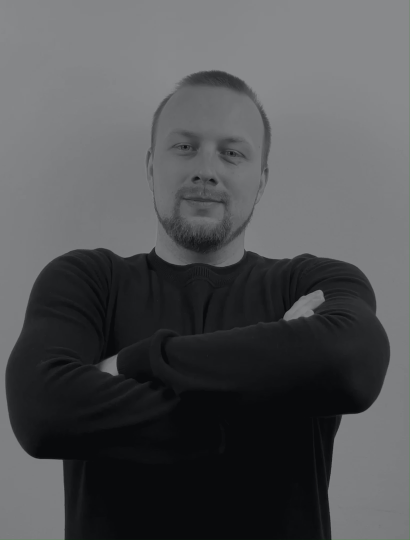 Mirosław is a software developer with over 10 years of experience in mutliple client and server side technologies. For past few years he has been involved in leading software teams and building their technological standards as well as development and maintenance of multiple multiplayer mobile games using Unity game engine.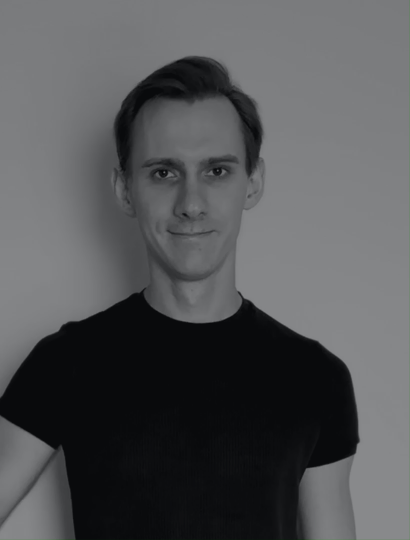 Robert Kruszewski
HEAD OF MONETIZATION
F2P mobile games and numbers geek. During his 6 year professional experience in the mobile gaming industry, Robert has generated success stories in both AD monetization and IAP monetization areas. Experienced from the developer side as well as from the store side. He was leading game operation for mobile app store developed by Huawei, AppGallery covering CEE markets.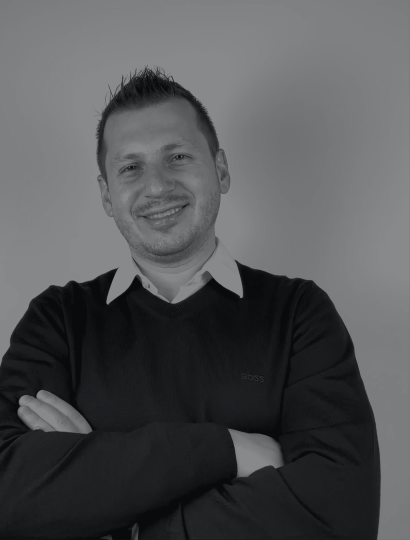 Maciej is a game veteran and a consultant with over 20 years of experience in high-level business development and marketing. He is also a keynote and an international speaker on global publishing, platform distribution, mobile game analytics, user conversions, and blockchain gaming. He previously held managerial positions at companies such as Samsung, Aptoide, Wanda Games, and MetaApp, and currently, he is a co-founder of Reality Metaverse and its chief business officer.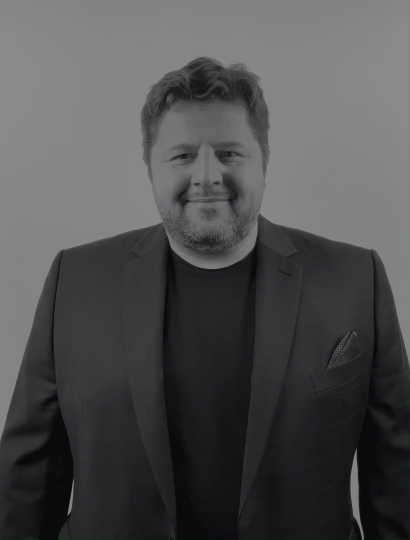 CEO & Founder of Reality Games (Top 100 mobile games studios) Landlord - geo property games with 4,6-star rating, 20M players, +$18M revenue. Built the first Metaverse project in 2008 (cities in a 3D environment by integrating all 3D elements with Web 2.0 services to a 1:1 scale with a society of 150,000 Avatars).
Zbigniew's educational background in law, government administration, and management from Jagiellonian University in Krakow, Poland, has also contributed to his success. He founded and managed Supremum 360, a marketing syndicate comprising three companies and 60 employees, which he successfully sold 12 years later. Additionally, he served as the director of the Polish Promotion Programme 2020 at the Kosciuszko Institute in Krakow, where he focused on creating comprehensive and universal strategies to connect businesses across different institutions and organizations.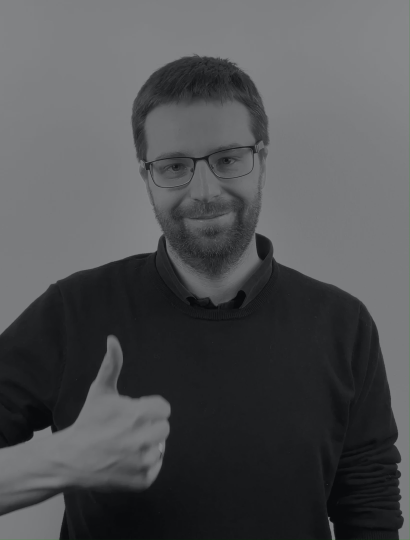 With over a decade of experience in management, Michal is a seasoned entrepreneur who has made significant contributions to various industries. Having transitioned from the e-commerce world to the game industry, Michal's expertise as a COO has been invaluable in driving growth and profitability. His ability to oversee operations and lead teams has earned him a reputation as one of the most competent professionals in the management field.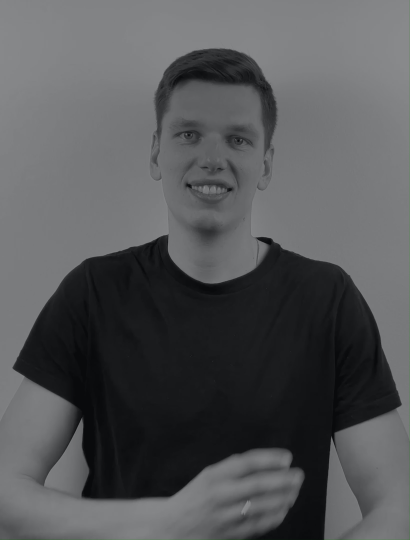 Adam Smolarczyk
HEAD OF ANALYTICS
Adam is Head of Analytics driving day-to-day analytical approaches and leading the analytics team in Reality Games. Worked with various data sources and technologies for over 10 years. Applied analytic and econometric solutions to Big Data topics connected with mobile games, insurance policies, and sports statistics.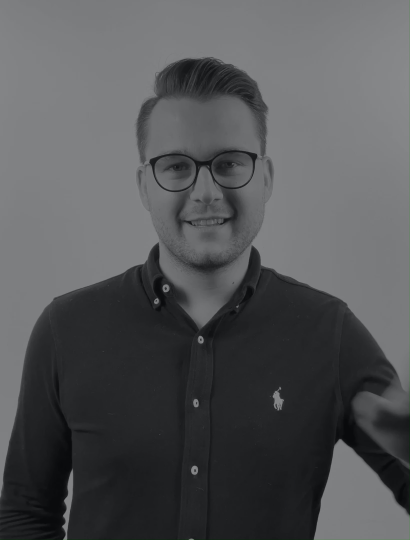 Filippos Theodorakopoulos Drogitis
HEAD OF COMMUNITY
Filippos is a Head of the Community with over two years of experience in mobile gaming geolocation-based titles as a Growth Manager. For the last three years, he has worked as a Head Manager for the Inbound and Outbound top-notch Travel Agency. His interests are focused on growth, digital marketing, and user acquisition.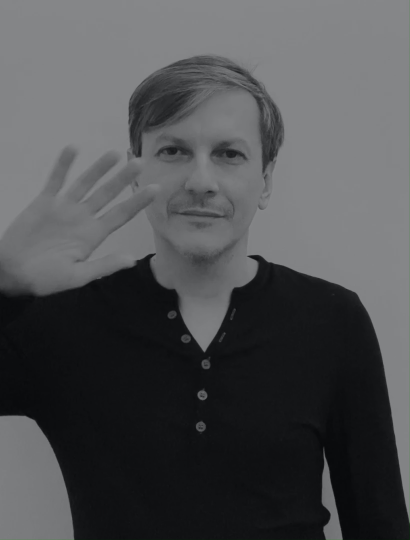 Greg is a network engineer with over 16 years of experience. He has worked in various settings. For five years, he worked at a major Polish web portal, where he configured operating systems, administered databases, and performed troubleshooting. He also performs functional tests and optimization services for a major mobile service provider.
Recruitment Frequently Asked Questions
What are the few steps to get your dream job?
Here you'll find the information about open positions. If your candidacy matches any of them, please send your CV. Send it, however, if you see the possibility of cooperation with us in any different scope. Send us more information about what you would like to do for us, and we will try to find a place for you. We are always open to new solutions and general development.
What is the Open Door Policy?
The company has an open door policy and takes employee concerns and problems seriously. We value each employee and strive to provide a positive work experience. Employees are encouraged to bring any workplace concerns or problems they might have or know about to their supervisor or some other member of management.
Is it possible to work remotely?
Remote work is not permitted for internships (unless your product owner explicitly agrees). For all other employees number of remote work is set individually by Product Owner and this is usualy 2 days a week. This is not transferable between weeks.
What is General Attendance?
The company maintains normal working hours of 40 hours a week, as agreed with Employee, their team and supervisor plus break time. Hours may vary depending on work location and job responsibilities and agreements with Company and the team. If you have any questions regarding your work schedule, please contact your supervisor. Weekly hours number may also vary and depends on specific country of employment work regulations - in Poland - standard is 40 hours week.
Equal Opportunity Employment
This company is an equal opportunity employer and does not unlawfully discriminate against employees or applicants for employment on the basis of an individual's race, color, religion, creed, sex, national origin, age, disability, marital status, veteran status or any other status protected by applicable law. This policy applies to all terms, conditions and privileges of employment, including recruitment, hiring, placement, compensation, promotion, discipline and termination.
Non-Harassment Policy / Non-Discrimitation Policy
This company prohibits discrimination or harassment based on race, color, religion, creed, sex, national origin, age, disability, marital status, veteran status or any other status protected by applicable law. Each individual has the right to work in a professional atmosphere that promotes equal employment opportunities and is free from discriminatory practices, including without limitation harassment. Consistent with its workplace policy of equal employment opportunity, the company prohibits and will not tolerate harassment on the basis of race, color, religion, creed, sex, national origin, age, disability, marital status, veteran status or any other status protected by applicable law. Violations of this policy will not be tolerated.If you will observe improper behaviour we should react and report it as soon as possible to company owners.
What is your Dress Code?
In case you wondered… We don't have dress code policy.
Your Internship journey starts here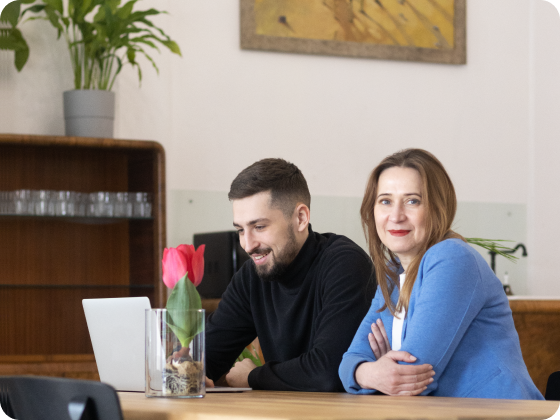 If you have a keen interest in gaming, IT, and creative fields and seeking an opportunity to enter the gaming industry, Reality Games is an ideal place for you. It offers the right platform to pursue your passion.

This is an exciting opportunity to gain practical experience and work with the latest technologies. To be successful, you must be able to think critically, possess excellent communication and problem-solving skills, and be comfortable working in a fast-paced environment.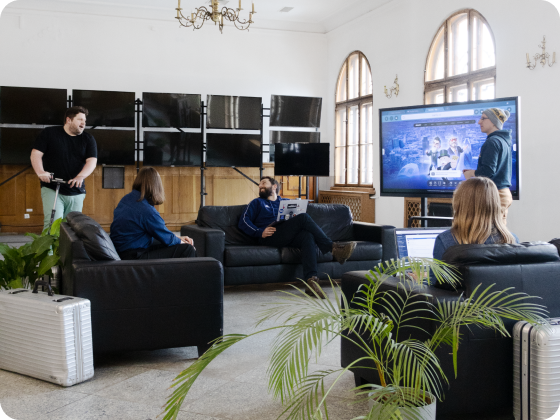 At Reality Games, you will be surrounded by like-minded professionals who are passionate about the gaming industry. You will have the opportunity to work on a variety of projects, ranging from mobile games to virtual reality platforms. You will also have the chance to learn from the highly skilled professionals t and grow your skills in the process. 

If you think you have what it takes to join our team, then don't hesitate to apply! We look forward to hearing from you and welcoming you to our team.
Employee Referral Program
Do you have friends whose skills, ambitions, passions, and more align with our culture? Your network leads to our best hires!